Order Super Cedar Firestarters
Prices includes shipping.

Click a tab to view your ordering options.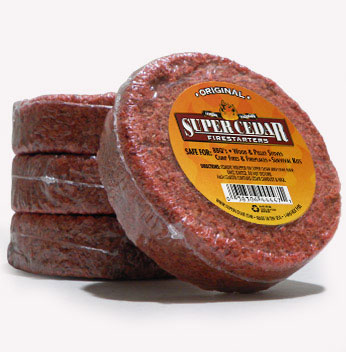 Super Cedar Firestarters are a 4" x 1" disk made from cedar sawdust and highly refined wax. They leave no residues or toxic chemicals behind. Simply light the edge with a match and each starter will burn for 20-30 minutes. One starter can be broken apart to start multiple fires!
Learn How To Use Super Cedar Firestarters
Cleaner, Hotter,
& Safer!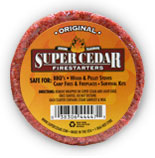 Super cedar lights faster, burns longer, burns cleaner, and burns at a higher temperature than other available firestarters.
Super Cedar achieves a higher temp far faster than other firestarters while maintaining higher temperatures longer.
See for yourself how Super Cedar is the superior firestarter!
Learn More
Works Great
For Catalytic Stoves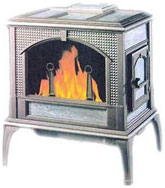 Not only is Super Cedar Firestarters safe for catalytic stoves, but studies have found that it improved the start-up time of the stove and, in the long run, will lower the amount of pollutants emitted from the stove.
A leading catalytic converter manufacturer tested the effect of Super Cedar Firestarters on the startup and operation of catalytic stoves.
Learn More
Sign up for Super Cedar emails and you'll start to receive exclusive offers and discounts on all Super Cedar products.
Email Address:
Custom Label
Super Cedar Orders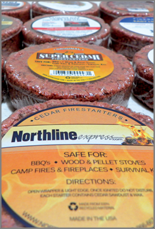 Super Cedar Firestarters are creating happy customers and profits for many companies. We can provide large quantities of Super Cedar pucks with the standard label or with custom imprints.
Learn More
© 2015 Super Cedar Firestarters by Northwestern Fuels
Northwestern Fuels
4493 Russell Road, Suite A
Mukilteo, WA 98275
Email: info@supercedar.com
Phone: 1-866-HOT-FYRE (1-866-468-3973) | Fax: 1-425-493-8130