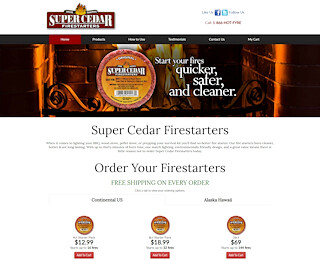 Perhaps you saw our ad in Sportmans Guide magazine. As more and more people are discovering how easy it is to light fireplaces, convection fireplaces, barbecues and firepits with the little wood-and-wax disks, our business is really booming. So well, in fact, that we now offer free shipping on all orders.

If you responded to our print advertisement in Sportsmans Guide magazine, you already know how easy and effective Super Cedar Firestarters are. Simply break a disk into four pieces and use one of them to start a lovely fire. These remarkable little disks are so easy to use and much more convenient than traditional fire starters such as tinder, newspaper and kindling. They make very little smoke and since one disk can start up to four different fires, Super Cedar Firestarters are quite economical, as well. No wonder people who saw our ad in Sportsmans Guide buy from us again and again. Become our Facebook friend and sign up for our email newsletter. We are located in the Pacific Northwest paradise of beautiful Mukilteo, Washington, but we pack and ship to just about anywhere.

If you bought a different sort of fire starter through Sportsmans Guide, please try our product and compare it to whatever else you purchased from an ad in Sportsmans Guide. You will be delighted when you find how superior Super Cedar Firestarters are when compared to products like Fat Wood and Duraflame. On this website, you may review the actual report that was generated when an independent third party laboratory evaluated our product against our two major competitors. Evaluations were based on comparative ignition time, burning time and the amount of smoke put off by the product. So, next time you're buying a fire starting product through Sportsmans Guide, cruise right past the Duraflame and buy yourself a box of Super Cedar Firestarters.