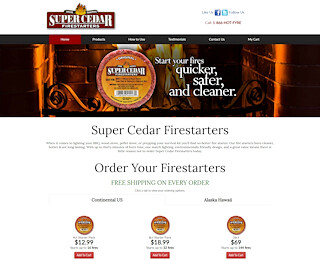 There are few heating devices as charming as wood burning stoves. Trouble is, they can be hard to light with kindling and twigs. Super Cedar Firestarters are the easiest way we've ever come across to light a blazing fire in a wood burning stove. Firestarters are also great for lighting barbecues and fireplaces.

Can Super Cedar Firestarters be used to ignite wood burning stoves? You bet they can. Our little fire starters are actually a great way to ignite a fire in any number of situations. Use them to light wood burning stoves, catalytic stoves and pellet stoves, too. Of course, they work great in fireplace inserts. If you would like to avoid the chemical smell and taste that starter fluid gives off, try a Super Cedar Firestarter next time you're grilling outdoors. Yes, there are other methods of lighting wood burning stoves, fireplaces, campfires and barbecues, but none of them are superior to our product. Use Super Cedar Firestarters to light your wood burning stove once, and you will surely be convinced.

Super Cedar Firestarters are cost effective, too. You can break a disk into four pieces and use each piece to start a lovely fire in your wood burning stove or fireplace. These remarkable little disks are so easy to use and much more convenient than traditional fire starters like tinder, newspaper and kindling. They put off very little smoke and since one disk can start up to four different fires, Super Cedar Firestarters are quite economical. No wonder people who try our product one time come back to buy from us again and again. Become our Facebook friend and sign up for our email newsletter. We are located in the Pacific Northwest paradise of beautiful Mukilteo, Washington, but we pack and ship to just about anywhere.