Lighting Your Fire Is Easy With a Super Cedar Firestarter

Lighting the Firestarter is simple and easy. No paper is needed, no lighter fluids, and best of all, it happens fast. Within two minutes the Super Cedar Firestarter will reach a temperature of over 1000 degrees.
Step 1: Remove the plastic packaging from the Super Cedar disc.

Step 2: Place disc in desired location.

Step 3: Light each side of the Firestarter with a match until the flame catches.
That's it! Just three simple steps. Your Super Cedar Firestarter will burn and burn hot for 20-30 minutes ensuring a quick, hot, and clean burning fire. Once ignited do not disturb.
If you are lighting your Firestarter in a fireplace or in a woodstove, place wood on either side of the Super Cedar with additional wood pieces directly over the Super Cedar. For fireplaces, the Super Cedar can be placed under the grate.
For those of you with catalytic wood burning stoves, have no fear, the
Super Cedar is completely safe for your stove
.
Breaking Your Super Cedar Into Multiple Parts
Each Super Cedar puck can be easily broken into four separate pieces to enable you to get multiple fires out of one Super Cedar Firestarter. Breaking your Super Cedars in halves or quarters is great for those that are using very dry wood or smaller fires.
Simply grab a knife, even a butter knife will work, and press down across the width of the Super Cedar along the pre-scored markings. Kind of like you are cutting up a pizza... just a little different, though.
Once you have a deep score with the knife, grab each side of the puck and "bend" the Super Cedar. It will break in half.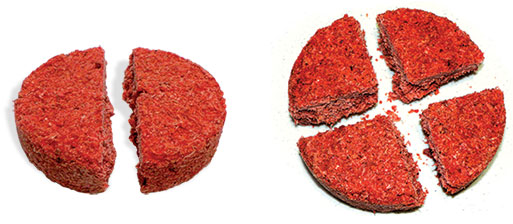 Super Cedar's Hot Start and Long Flame Advantage!
Super Cedar ignites with one match and achieves higher flame temperatures in a faster time period than other firestarters. This means quicker, hotter, and cleaner burning fires. A cleaner fire means less smoke and less build-up in your chimney. Get the heat you need faster while providing a super long burn time. Why wait up to ten minutes for your firestarter to produce the heat you need when the Super Cedar burns at over 1,000 degrees within two minutes!
Super Cedar recently used the services of an unbiased 3rd party laboratory in the evaluation of our product and two competing fire starters. See how well the Super Cedar performed with its hot start, long heat life, and clean burn.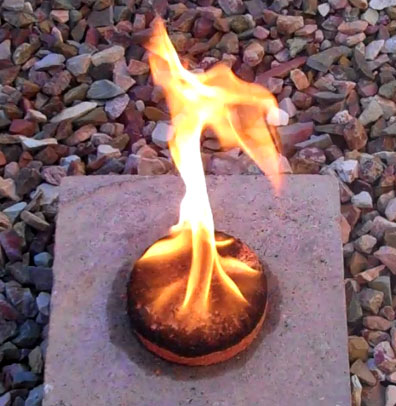 Get 30 Minutes of Burn Time With 12" Flames
The hot start you get from a Super Cedar is best in class, but combining that with the long burn time and you are making sure your fire gets going fast and stays lit. This means less fuss and more time enjoying the fire.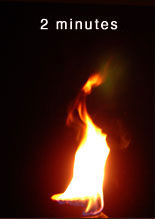 Within the first two minutes of lighting the Super Cedar, the Super Cedar is burning hot and at nearly 1,200 degrees Fahrenheit.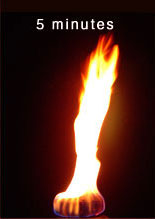 At the five minute mark the Super Cedar is now completely engulfed and reaching its peak temperature.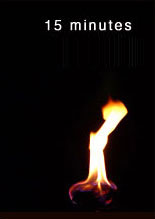 At the 15 minute mark the Super Cedar is still showing a strong flame and is completely intact.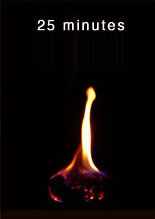 At the 25 minute mark the Super Cedar is still at nearly 800 degrees Fahrenheit while still remaining in one piece.
Cast Aluminum Stove Sets Up Quick And Is Always At The Ready

The Cast Aluminum Stove makes a great companion no matter what the situation. From camping to emergencies, the Cast Aluminum stove is small, lightweight, and easy to use.

Place a Super Cedar Firestarter onto a flat surface. Light the Firestarter and then place the Cast Aluminum Stove on top of the Firestarter. Within two minutes the Super Cedar Firestarter is fully engulfed and the Cast Aluminum Stove is ready to heat up a small pot, pan, or cup.

With the Super Cedar Firestarter's long burn time, you will have up to 30 minutes of heat life from the Cast Aluminum Stove.
Top Eleven Uses For Super Cedar Products
King of the neighborhood. Challenge any neighbor to a barbecue contest. With the Super Cedar at your side, no neighbor will stand a chance.
A quick meal while camping with the Super Cedar Cast Aluminum Stove.
Sponsor a fundraiser! The Super Cedar Firestarters are perfectly packaged for students to sell and make profits for their local charity. Contact us for details.
Firewood Dealers, increase your sales. Include a couple Super Cedar Firestarters in each firewood order you fill. Suddenly your customers will be coming back for more of that easy to burn wood!
Start your romantic evening off on the right note. Quickly get that fireplace roaring without the mess of newspapers or kindling. Work on your love life, not your fire!
Great Cedar Smell, keep a Super Cedar in your sock drawer and your clothes will always smell wonderful.
Cook a hot meal during power outages with the Cast Aluminum Stove.
Out in the woods, caught without a fire? In your survival kit should be a Super Cedar Firestarter and waterproof matches. You will be set for any survival situation.
Make an emergence kit even better with a Cast Aluminum Stove and a few Super Cedars Firestarters.
Throw out your lighter fluid. Place a Super Cedar in your charcoal grill. Cover your Super Cedar with your favorite charcoal or cooking wood. Light the Super Cedar and watch as your grill quickly fires up to cooking temperature. No messy fuels!
Use a Super Cedar to start your fireplace fire quickly and easily.